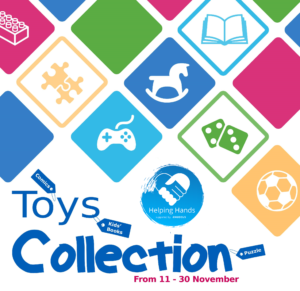 The toys collected by Helping Hands will be sold during our Christmas market which proceedings are used to support our 2021 solidarity projects and donated to our local partner associations (MJC l'ile aux tresors (Escale) and La Croix Rouge).
Everything you donate should be clean and in good condition (no pieces missing). We're looking in particular for:
Board games (kids and adults)
Construction games
Puzzles (no pieces missing please!)
Kids music, movies, cartoons
Electronic games
You may find a collection box in the following Amadeus locations:
In Sophia (badges areas*):
Building B3: Reception's badges area
Building B1: Delivery's badges area
Les Oreades (to be confirmed)
*Building A3: by coffee room
In BelAir main entrances (badges areas)
BelAir Asia
BelAir America
BelAir Europe
BelAir Middle East Africa
Follow us in Yammer to get the latest information quicker!